As the holidays creep up on us all (seriously, can you believe it is the end of November?!), it is well worth taking five minutes away from the madness and pay it forward by doing a good deed for a complete stranger. The goal is that they will then pay it forward with a kind deed for someone else. A snowball effect that would be welcomed by many!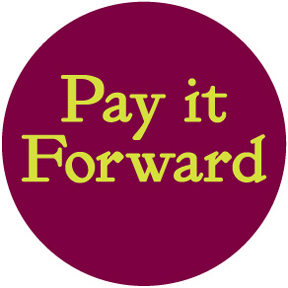 Just last week as I rushed through the food store frantically trying to cross everything off my list in record time, my need for coffee overcame me. When I snuck over to the Dunkin' Donuts line to order my usual (iced decaf caramel mocha with skim and one Splenda), I felt the presence of someone behind me. It was an older gentleman who was waiting to order. I let the cashier know that I would like to pay for his order as well as my own. Confused, he looked at me and pleaded that I not do that. I insisted that I
Read More

»
Guess what?! I am proud to announce that our little angel had arrived earlier than expected and Mr. Why Knot and I have been filling our days with spending each and every possible second with her! Now for a mommy time out and a blog post update – here's some pictures and a quick recap of the day that changed our lives forever.
Monday, August 12, 2013 ~ White Plains Hospital
3:43PM – 5lbs, 7oz. – 17in.
Alessia Rayne
Our first 'family' moments:
Our special delivery was made by an exceptional team of surgeons, doctors, nurses and staff who were able to safely deliver our daughter within just minutes following a few decelerations of her heart. While I was in mild contractions and being monitored at a routine doctor's visit, her heart rate was dropping (which was because she was sitting on her cord.) I was transferred to the hospital immediately and monitored once again. In time, her heart decelerated a second time. The safest way to deliver her was to do an emergency c-section as soon as possible. Being hooked up to the monitor during the time of her decelerations was her way (and God's way) of saying 'Hey! Get me out of here! Something is going on!"
Our precious little angel was delivered shortly thereafter and is our greatest gift. A true angel baby who needed to cause some commotion to get her point across (oh jeez, she is already like her mommy!) Mr. Why Knot and I are adjusting to parenthood and enjoying our moments with her every minute we can. She is a blessing and I will be sure to post pictures and some stories of the teachable mommy moments on the blog. Stay tuned! This is just the beginning.
(…And for all of the brides out there – no worries! There are plenty of hot, new, wedding blog posts getting posted up soon!)
Stay updated all of the time: Facebook. Twitter. Pinterest. Etsy.  Email.
Shop 24/7…why knot?! Mrs. Why Knot Bracelet Shop
Mrs. Why Knot Custom Date Art Shop
Love is in the air – and we just LOVE LOVE LOVE a sale!
Valentine's Day is right around the corner. Swoon your valentine with custom date art with the dates important in your lives! (or hint to your Valentine about your favorite Mrs. Why Knot accessory color…why knot?!)
Read More

»